As of March 1st 2013, the Company launched a dynamic pricing system.
The dynamic pricing and profitability management system was launched in Q1 2013. At the end of the reporting period, the scope of the project included 118 long-distance services operating on 14 flow-type routes, amounting to 21% of the total volume of trains in the schedule for long-distance passenger rail services for 2013/2014.
Following the launch of this project, revenue growth from transport services-related activity from March to December 2013 reached 4.4%, that is 4.1% above the network-wide trend. In absolute figures, growth against the previous year's figures stands at RUB 1,204.9 million; this includes RUB 498.4 million from transport services and RUB 706.5 million from support services. In the future, it is intended to roll out the project over the entire network.
In addition, against an overall decline in national rail mobility, trains already included in the dynamic pricing system indicate a greater stability in the transport services volume: the drop in passenger flow on train services in the dynamic pricing system reached 2.9%, while train services still using the traditional pricing system indicated a fall of 4.5%.
In 2013, 346,184 customers were registered in the RZD-Bonus scheme; 22,811 of them had earned enough points to receive free bonus scheme award tickets and 8,538 had applied to receive a bonus. In total, 475,000 passengers have registered since the project was launched (July 1st 2012).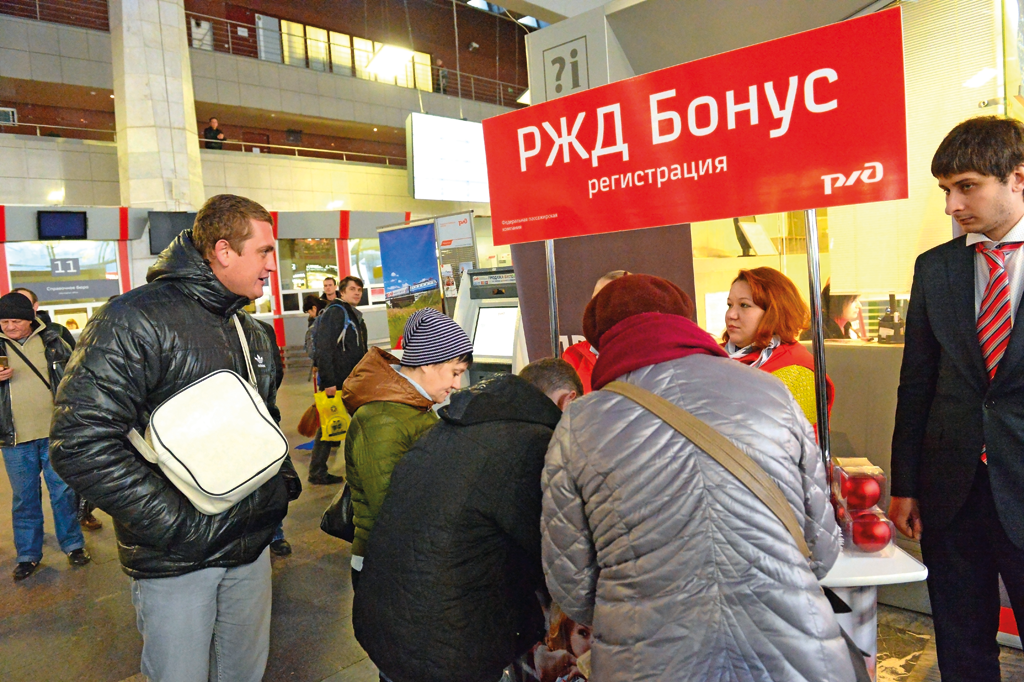 In 2013, over 1,200,000 journeys were made by participants in the bonus scheme. On average, each scheme member completed 5.8 journeys over the year.
The share of members actively participating in the scheme now represents 59% of the total number of members registered in the RZD-Bonus scheme in 2013.
Key events in 2013 under the development drive for the RZD-Bonus loyalty scheme included the launch of a joint co-branding project with VTB24 Bank (CJSC) and the VISA international payment system. In 2013, 100,768 joint VTB-24-RZD cards were issued, of which 6,448 were issued to current loyalty scheme members.
The processing of free bonus scheme award tickets is now possible on the JSC RZD company website.
By the end of the year, merger had been achieved with the loyalty scheme of the JSC RZD Sapsan high-speed trains; the RZD-Bonus scheme then became the loyalty scheme for the entire Russian Railways holding.
Under the RZD-Bonus scheme, as of 22 October 2013, an initiative for passengers frequently travelling on JSC FPC branded trains with day season ticket passes — 'The Daily Traveller's Club' — was launched. Participants are provided with a club membership card, which in addition to accumulating points under the loyalty scheme, also entitles the passenger to a number of additional offers and benefits.
The loyalty scheme will be expanded as the number of services available and partner-companies increase.